Main Content
Programs
Fall 2023 Homesteading Series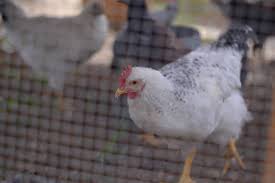 Join us during lunch hour to learn science-based, savvy skills for your home and garden. Each workshop will be one hour and taught by various speakers. Participants must pre-register and can choose 'ala-carte' or choose the entire bundle to receive a 25% discount. Feel free to bring a lunch to enjoy during the presentation!
Food Preservation and Create a Kitchen Herb Planter – September 21, 12:00 p.m- 1:00 p.m. $10
Fruit Trees for the Home Orchard- October 6, 12:00 p.m. – 1:00 p.m. $10
Composting- October 16, 12:00 p.m.- 1:00 p.m. $10
Backyard Chickens- November 1, 12:00 pm- 1:00 p.m. $10
Backyard Beekeeping- November 17, 12:00 p.m- 1:00 p.m. $10
Vermi-Composting- December 4, 12:00 p.m- 1:00 p.m. $50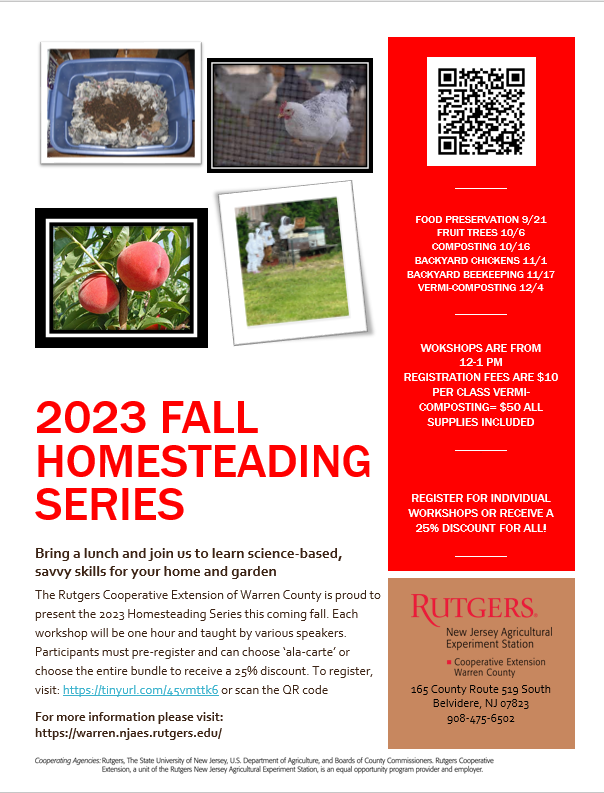 ---
Rutgers Gardening Education Series 2024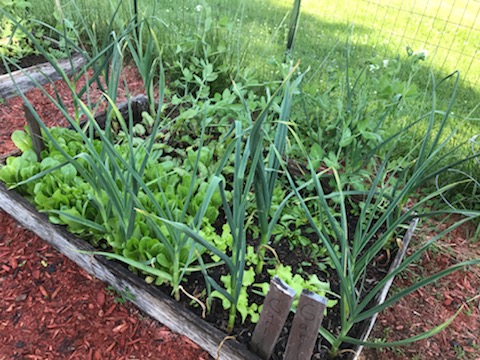 The Gardening Education Series is an in-depth look into the science behind how things grow. It is appropriate for gardeners of all experience levels. This series will be delivered through 16 online classes, plus additional webinar content and resources for in-home study. Classes will be recorded for later viewing.
Classes will be Thursday evenings 6:30-8:30 p.m., February-May
Topics include but are not limited to: botany, soils, entomology, plant pathology, pruning, lawn care, vegetables, small fruits, tree fruits, ornamental plants, and composting.
Registration fee is $250.00- scholarships available
Registration will open November 2023
---
Rutgers Environmental Steward Program 2024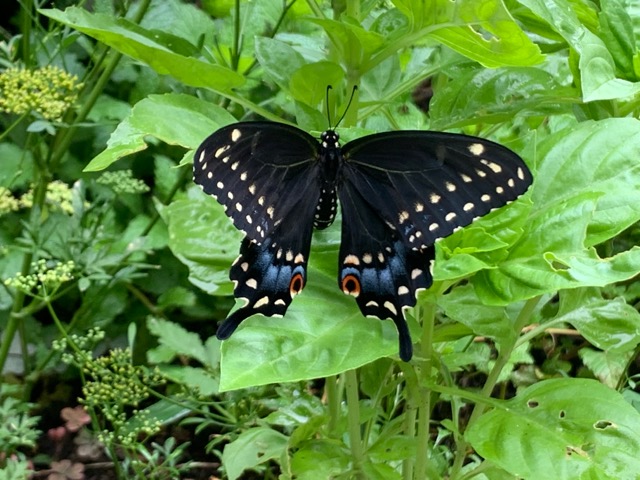 A Rutgers Environmental Steward is a volunteer that is trained in the important environmental issues affecting New Jersey and works to help solve local environmental problems. No previous experience needed, you simply need a passion for the environment and a desire to help solve local environmental problems.
Weekly classes taught by leading researchers from Rutgers, government, and the nonprofit sector. Tuesdays 5:30-8:30 p.m. Approximately 11 online and 5 in-person sessions running January 23-May 21.
Fieldtrips to environmentally significant sites are included.
Topics include climate change, solid waste, recycling, soil health, alternative energy, water quality, habitat conservation, pollinator protection, and environmental policy.
Complete a 60-hour project in your community to become certified.
Program fee– $260- scholarships available
To register or learn more visit: envirostewards.rutgers.edu
---